SCREENS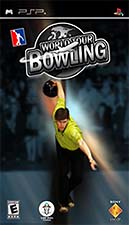 The most advanced bowling developed anywhere for any platform, World Tour
Bowling combines realistic physics simulation with a dizzying array of features to create the ultimate video game bowling experience. Designed to challenge everyone from the novice to the seasoned pro, WTB is the
perfect game for the entire family.
Advanced physics guarantee that pins bounce and spin like they should.
Compete in 24 alleys around the world
Customize your bowler's sex, height, hair color, style, clothing, and more.
Purchase gloves to improve your accuracy, new balls to increase hook or spin, designer pins to give your game a new look and more at the Pro Shop.
Career mode tracks your bowler's performance and gives you access to a wide array of stats on your performance like strike percentage and pick-ups.
Network play support and game sharing.
Take the trivia challenge and test your bowling acumen with hundreds of unique questions.
A flexible code base that allows easy porting across multiple SKUs from cell phones all the way to the PS3.

Platform:
PSP
Target Release Date:
TBA
Genre:
Sports
Target ESRB:
Family

WTB Design Doc